Planet Indonesia, one of FSM's impact investing partners, announced that seven more coastal villages have pledged to join PI's locally managed marine area agreement.
Planet Indonesia's program was originally designed to help local fisheries in rainforests replenish their fish supplies by periodic closures to fishing. They have been able to implement the program successfully in threatened mangrove forests as well.
Ecosystems can become depleted through overfishing. And if villages that depend on fishing for their food and livelihood find that their local fish harvests are dwindling, they will often turn to other sources of income, such as illegal logging or selling their forests to companies that specialize in monoculture, such as logging or palm oil harvesting.
To preserve both the environment and the community's economic welfare, the natural resources must be managed wisely through conservation.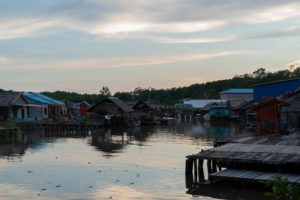 Planet Indonesia's conservation method involves temporary water closures, periodically banning fishing and other usage of a defined area for a specified amount of time to allow the fish population to restore itself and mature. In the coastal villages, the temporary closures restored crab, fish, and shrimp populations while protecting important forests. By showing the positive results—e.g., that on average fishermen caught twice as many crabs and fishes in rivers that had been closed compared to those that had not been closed, Planet Indonesia was able to convince the villagers to make the periodic closures a permanent policy. If the environment thrives, the village will also thrive.
Planet Indonesia also implements literacy programs and financial training and created savings and loans programs to improve villagers' financial security. Over the next few years they will introduce their community health program, helping improve access to reproductive services, family planning, and education about nutrition and diet.
The seven coastal villages taking part in Planet Indonesia's planned closure agreements are considering creating a locally managed marine area—an agreement that uses zoning and management techniques to restore forests, improve food security, and ensure that their natural homes will continue to flourish for generations to come.