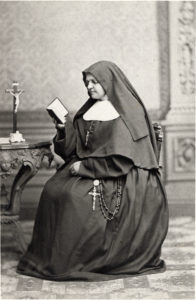 Through the streets of St. Louis in the early 1870s strode a woman dressed in dark garments with a soft veil falling around her shoulders: Mother Mary Odilia Berger, founder of the Franciscan Sisters of Mary. As she made her way each day about the city, caring for the ill and visiting her sisters who were nursing the sick, she carried on her arm a basket.
In that basket, she carried food and medicines, linens and other supplies for the sisters. Often a friend or neighbor passing by would slip her a few coins or bills or some items of food in support of the sisters' work; she would tuck them into her basket to share later with those who needed them most or to buy supplies for the sick.
For the Franciscan Sisters of Mary, Mother Odilia's basket—the very one carried by her through the streets of St. Louis—has become the image of our sisters' willingness both to give and to receive, to take from the basket to provide for those in need and to accept the gifts of others to extend their ministry. The basket is also a sign of our faith that God will provide all that is needed.
Mother Odilia's basket is kept in the heritage display case at the FSM administrative offices, a treasured reminder of the generous woman who carried it.