John O'Shaughnessy, CEO/CFO for the Franciscan Sisters of Mary and treasurer for the Global Catholic Climate Movement, returned home from Rome with great news for our common home.
At the Dialogue on Catholic Investments for the Energy Transition held in Rome on July12, 2018, Cardinal Francesco Coccopalmerio, president emeritus of the Vatican's Dicastery for Legislative Texts, proposed asking Pope Francis to add a new canon to the Church's Code of Canon Law specifying that every faithful Christian has the serious duty not only to avoid damaging but actively to improve the environment that is our common home, both through normal activities and special initiatives.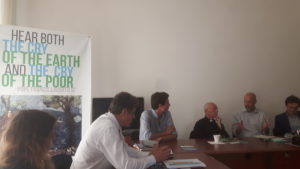 The Dialogue, sponsored by the Global Catholic Climate Movement, gathered Catholic participants who understand the urgent necessity for divesting from fossil fuels and reinvesting in clean, sustainable energy solutions. Pope Francis's encyclical Laudato Si': On Care for Our Common Home has inspired many Catholic institutions, including Caritas Internationalis, to commit to divesting from fossil fuels.
The participants, including Tomás Insua, executive director of the Global Catholic Climate Movement as well as Cardinal Coccopalmerio and John O'Shaughnessy and others, underscored the importance of investments consistent with the Church's social doctrine.
Cardinal Coccopalmerio's proposal to include responsibility for improving the natural environment as part of the Catholic Code of Canon Law will go far to encourage Catholics to take seriously the environmental crisis and their own role in working to heal the Earth.